Brevini®

Power Transmission



Brevini

®

 

Helical

 

and

 Bevel 

Helical
The data shown in this page are for information only. The actual data will be issued according to customer.
Helical and Bevel Helical Gearboxes
Brevini

®

 

Helical

 

and


Bevel 

Helical

 
De POSIRED 2helical en bevel helical tandwielkast biedt een modulair systeem met een hoge mate van standaardisatie, flexibiliteit en korte levertijden. Dankzij de vele accessoires en opties en een breed scala aan standaarduitvoeringen, is het ideaal voor uiteenlopende toepassingsgebieden.
Standaardcomponenten: ventilatoren, koelspiralen, externe olie / lucht of olie / waterkoelers, verwarmingselementen, koppelsteunen, motorconsoles, sub constructies en bewakingssystemen.
Screw centre distance: a = up to 125 mm.
Torque factor: df up to 34,4 Nm/cm3.
[table "helical_and_bevel_helical_gearboxes" not found /]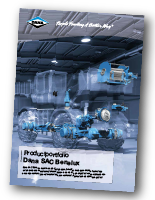 Schrijf u in voor de nieuwsbrief
en volg ons op social media