Brevini®

Power Transmission



The data shown in this page are for information only. The actual data will be issued according to customer.
Industrial Slewing Drives
Brevini

®

Slewing Drives
Dit brede scala aan Brevini planetaire tandwielkasten is specifiek ontworpen voor rondsel- en draaikrans aandrijvingen.
Met succes toegepast op torenkranen, scheeps- en havenkranen, windmolens en als stuurinrichting op scheepsaandrijvingen, De Brevini "Slewing Drives" worden gebruikt in alle toepassingen waar nauwkeurige positionering vereist is. Deze zwenkwerken van Dana zijn geschikt voor de zwaarste taken in elke omgeving.
Het ontwerp van deze planetaire aandrijvingen zorgt voor optimalisatie van de koppelprestaties en de radiale belastingscapaciteit, om een perfecte ingrijping te verkrijgen tussen het rondsel en de tandkrans. Voor een nauwkeurige afstelling van de tandspeling zijn sommige versies voorzien van een excentrische rondsel-as.
Nominal Torque 5.000 … 200.000 Nm.
[table "industrial_slewing_drives" not found /]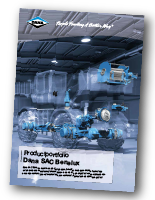 Schrijf u in voor de nieuwsbrief
en volg ons op social media
Comments are closed.