Brevini®

Power Transmission



Brevini

®

 Industrial Planetary
The data shown in this page are for information only. The actual data will be issued according to customer.
S -Series Planetary Gearboxes
Brevini

®

Industrial Planetary
De "S-serie" is de beste oplossing voor alle toepassingen die een hoog koppel met minimale afmetingen vereisen, op vaste industriële installaties maar ook op mobiele machines. Planetaire tandwielkasten hebben de voorkeur boven traditionele tandwielkasten omdat ze tussen 40 en 60% kleiner en lichter zijn. Met zijn vele as-uitvoeringen, talrijke invoermogelijkheden en alle leverbare accessoires, kan de "S-serie" in alle industriële sectoren worden gebruikt. 
Nominal Torque 34.000 … 2.170.000 Nm.
[table "s-serie_planetary_gearboxes" not found /]

Industrial Series Planetary Gearboxes
Brevini

®

Industrial Planetary
De populaire industrial serie omvat modulair ontworpen tandwielkasten voor industriële toepassingen. Het biedt meer koppel capaciteit voor iedere grootte en meer flexibiliteit in montage mogelijkheden. De industrial series zijn beschikbaar in diverse formaten om een optimale levensduur en een geruisloos bedrijf te garanderen voor een diversiteit aan toepassingen. Het verhaal stop daar niet:  de S-serie neemt het van deze serie over voor toepassingen die een hogere koppel capaciteit nodig hebben. 
Nominal Torque 1.000 … 25.000 Nm.
[table "industrial_and_e-series_planetary_gearboxes" not found /]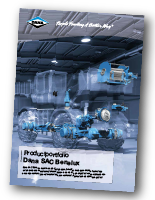 Schrijf u in voor de nieuwsbrief
en volg ons op social media
Comments are closed.